Thank you for visiting American Bowling Apparel and considering us for your next bowling apparel purchase.
For more information....
Please call us at (888) 775-4800 or
e-mail your request to info@americanbowlingapparel.com.
We look forward to working with you!
Please note that our website does not utilize "grocery cart" technology. After 20 years in business...we still like to talk to our customers! Call us toll free (888) 775-4800.
To order call (888) 775-4800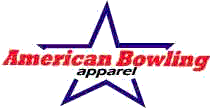 Mason, Ohio
Links:
Digitek Corp.
USA Racing Apparel
American Fishing Apparel
The Company Image